Novogene enhances its long-read sequencing capacity with the addition of eight PacBio Sequel IIe systems
June 9, 2021 – Novogene, a leading provider of genomic services, has announced it is deepening its strategic alliance with PacBio with the purchase of eight state-of-the-art PacBio Sequel IIe sequencers. Novogene has increased its PacBio sequencing capacity at its Tianjin Sequencing Center to enhance its third-generation sequencing capabilities. Novogene is now preparing for approval as a PacBio Certified Service Provider.
The purchase completes Novogene's line-up of PacBio sequencing systems, which now includes Sequel IIe, Sequel II and Sequel. The introduction of the PacBio Sequel IIe system will bring increased accuracy and efficiency to Novogene's global customer base and will be the foundation for Novogene's high-fidelity (HiFi) long-read sequencing.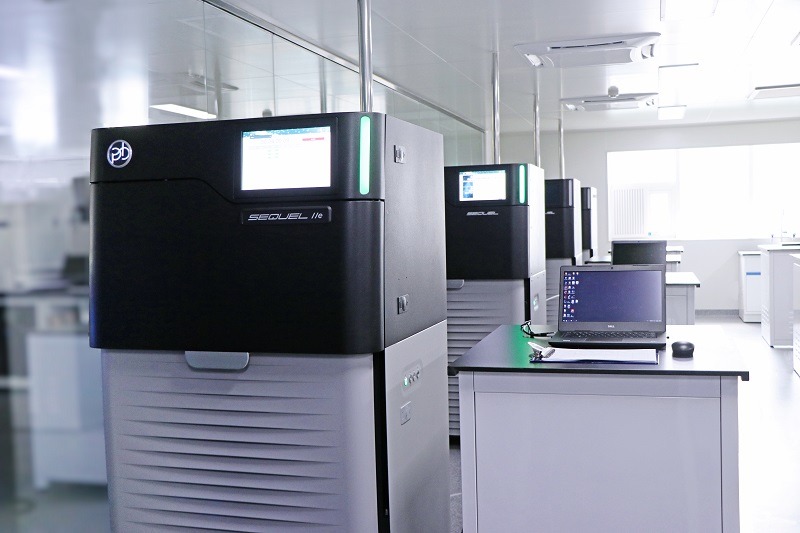 PacBio Sequel IIe in Novogene Tianjin Sequencing Center
Sequel IIe is the latest long-read sequencer based on PacBio's proven single-molecule real-time (SMRT) sequencing technology. By improving the data processing and computing capabilities the new system can generate high-precision long-read data faster and more economically than ever before, providing researchers with a comprehensive view of the genome and transcriptome.
Sequel IIe is optimized for HiFi sequencing, which eliminates the need for post-processing of sequencing data, reducing secondary analysis time by 70% and file transfer and data storage requirements by as much as 90%.
Novogene has a strong history of successful projects using third-generation sequencing technologies dating back to the introduction of the PacBio Sequel in 2017. Novogene's sequencing team have amassed a huge amount of experience through successfully sequencing tens of thousands of samples using the PacBio system. As of May 2021, this amounted to over 2,600 projects, including animal and plant de novo genome sequencing, microbial genome sequencing, full-length transcriptome sequencing as well as human genome sequencing. The completed research projects have contributed to over 100 publications with a total impact factor of over 850.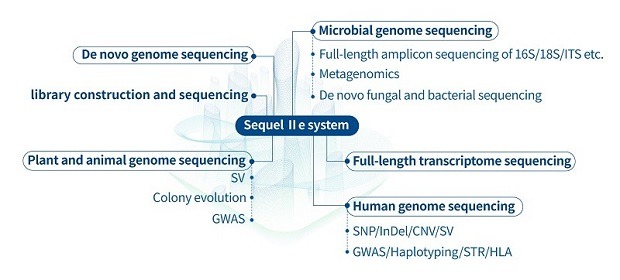 Sequel IIe Application Services at Novogene
To maintain its position as a leading global provider of genomic services, Novogene is constantly expanding the scale and capacity of its sequencing centers with the latest sequencing platforms. Novogene's focus on professionalism, quality, speed and cost-effectiveness are helping to drive scientific discovery and collaboration around the world.