DNA methylation at the C5 position of cytosine plays a crucial role in gene expression and chromatin remodeling. Perturbations in methylation patterns are associated with tumorigenesis, neurodegenerative diseases and neurological disorders. Bioinformatic analysis of methylomes is widely used in various research areas, including studies on gene regulation, cell differentiation, embryogenesis, aging, occurrence and development of disease, phenotypic diversity and evolution in plants and animals.
Novogene provides whole genome bisulfite sequencing (WGBS) to efficiently identify methylated cytosines on a genome-wide scale with a single nucleotide resolution. The deep reach of the methylome is imperative for understanding gene expression and multiple biological processes that are subject to epigenetic regulation.
Applications
Novogene delivers high-quality data and publication-ready analysis results of WGBS services, to faciliate research including:
Profiling methylation patterns at CG, CHG and CHH sites with single nucleotide resolution
Identifying differentially methylated sites associated with experimental treatments or sample conditions
Understanding mechanisms of cell differentiation or tissue development on the basis of methylation profiles
Early diagnosis of diseases and cancers through the detection of DNA hypermethylation or hypomethylation
Benefits
Hundreds of projects have been successfully completed with highly professional, publication-quality data output and bioinformatics analysis.
Ultra-low input DNA and high bisulfite conversion rate are available in methylation library preparation.
Industry-standard software (such as Bismark) and mature in-house pipelines are used for mapping and comprehensive bioinformatics analysis.
Customized association analysis can explore correlations between methylation and gene expression.
Specifications: DNA Sample Requirements
| | | |
| --- | --- | --- |
| Sample Type | Required Amount | Purity |
| Genomic DNA | ≥ 200 ng | A260/280=1.8-2.0 |
Note: Sample amounts are listed for reference only. Download the Service Specifications or Sample Requirements to learn more. For detailed information, please contact us with your customized requests.
Specifications: Sequencing and Analysis
Platform Type
Illumina NovaSeq 6000
Read Length
Paired-end 150 bp
Sequencing Depth
≥ 30× coverage for the species with reference genome
Standard Data Analysis
Data Quality Control
mCs detection, methylation level calculation
Methylation level and frequency distribution
Differentially Methylated Site (DMS) detection
Differentially Methylated Regions (DMRs), Differentially Methylated Promoter (DMPs) detection and annotation
Function enrichment of DMR-associated genes and DMP-associated genes
Visualization of BS seq data
Comparative analysis (among samples)
Note: Sequencing parameters and analysis contents displayed are only for reference. Download the Service Specifications to learn more. For detailed information, please contact us with your customized requests.
Project Workflow
The Novogene WGBS service is comprised of four steps. Sample preparation is followed by library preparation, sequencing and bioinformatics analysis. To construct a methylation library, DNA fragmentation is performed initially, and sodium bisulfite converts the unmethylated cytosines into uracils. Libraries are then sequenced using Illumina PE150 and the reads are processed with bioinformatics pipelines.
In order to ensure the accuracy and reliability of sequencing data, Novogene audits every experimental step strictly by quality control and ensures high-quality data output fundamentally, from DNA sampling to obtaining the final data report. Obtaining high-quality data is the premise to ensure that bioinformatics analysis is correct, comprehensive and credible.

Featured Publications using Novogene WGBS Service
Whole Genome Bisulfite Sequencing (WGBS) is a powerful method to identify individually methylated cytosines on a genome-wide scale. The deep reach of the methylome (including methylated cytosine detection), the promoter detection of differentially methylated sites and regions, and related functional analysis of the Differentially Methylated Region (DMR) and Differentially Methylated Promoter (DMP), are all essential for understanding gene expression and other processes that are subject to epigenetic regulation. Here summarizes a list of publications that used Novogene WGBS service.
Distribution of Genome Coverage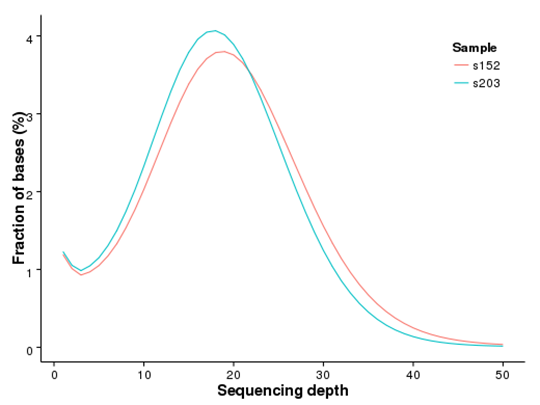 ---
Methylation Level Distribution on Whole Genome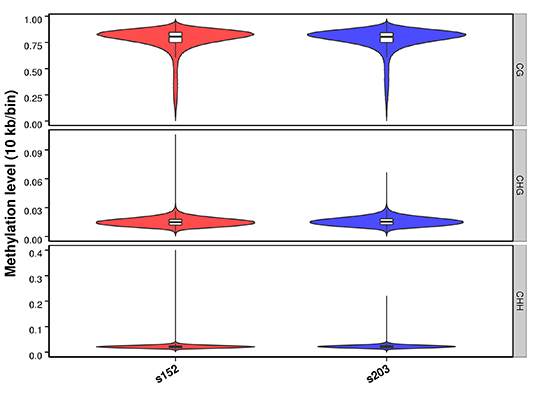 ---
Heatmap Analysis for Methylation Levels of Gene Functional Region

---
Methylation Level Distribution at Functional Genetic Elements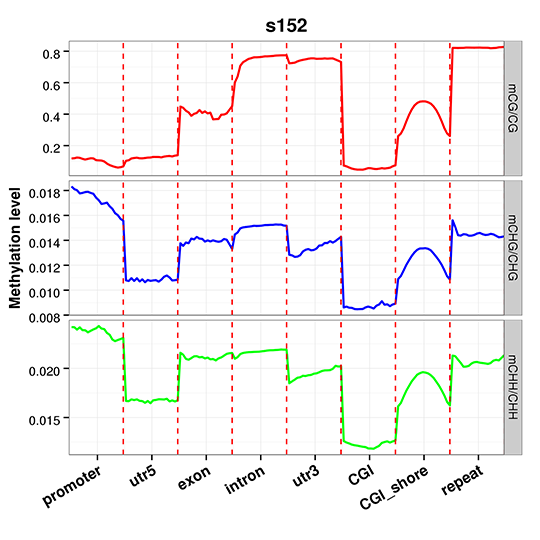 ---
Circos Plot for DMR Condition in three contexts (CG, CHG, CHH)