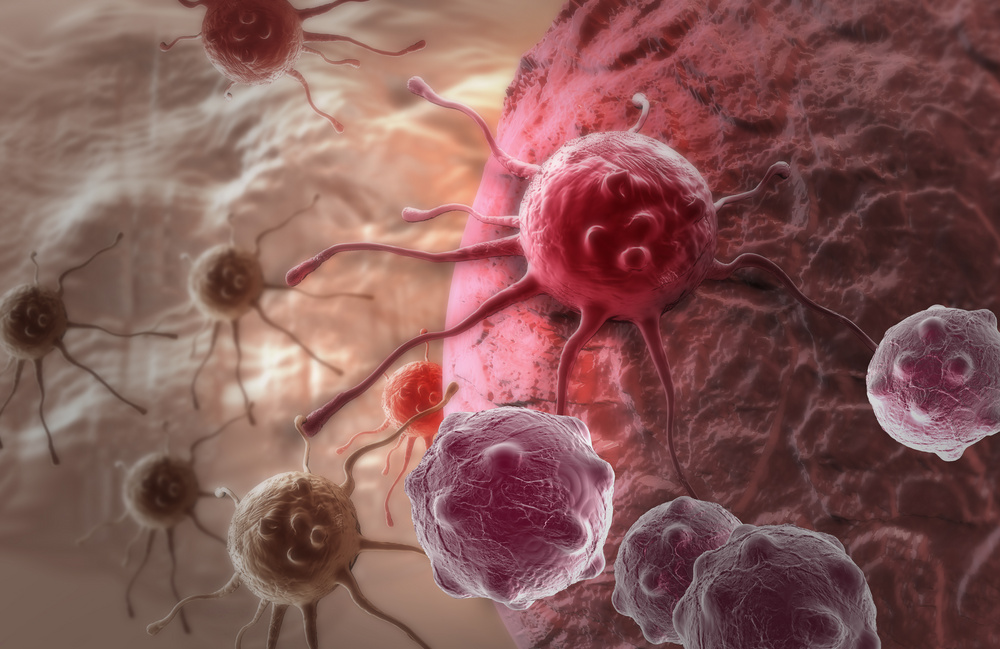 Neoantigens are newly formed antigens that have not been previously recognized by the immune system. It is a key element of cancer immunotherapies. NovoNeoantigen 2.0 is a robust and comprehensive bioinformatics analysis service developed by Novogene for discovering tumor-specific neoantigens using whole exome sequencing (WES) and mRNA sequencing (mRNA-Seq) data from paired tumor-normal samples.
Advantages
Comprehensive Results NovoNeoantigen 2.0 interrogates WES and mRNA-Seq data from paired tumor-normal samples for three types of genomic abnormalities (SNV, InDel, and Fusion) at DNA and RNA levels. From these data, it further generates results on tumor mutation burden (TMB), SNV Phasing, HLA typing and antigen affinity, eventually identify tumor-specific neoantigens.
Reliable Performance NovoNeoantigen 2.0 has demonstrated reliable performance when tested on data sets with known neoantigens caused by somatic mutations.
Short Turnaround Time With leading-edge sequencing solutions, superior wet-lab process efficiency and widely known bioinformatics capabilities, we can complete NovoNeoantigen 2.0 within 27 business days after sample QC result or 7 business days after raw data is available.
NovoNeoantigen 2.0 Service Overview
Testing Workflow

Sample Requirements
| | | |
| --- | --- | --- |
| Sample Type | Sample Requirement | Sample |
| FFPE | ≥ 10 sections (4-μm), each with tissue area ≥ 50 mm2; | Tumor DNA and RNA |
| FFPE Block | ≥ 1 Block | Tumor DNA and RNA |
| Fresh Tissue | ≥ 300 mg | Tumor DNA and RNA |
Sequencing Strategy
HiSeq X Ten or NovaSeq 6000, PE150
Data Quality Guarantee
We guarantee that ≥ 80% of bases have a sequencing quality score ≥ Q30, which exceeds Illumina's official guarantee of ≥ 75%.
Recommended Sequencing Depth
WES: Sequencing depth ≥ 200× for tumor DNA and ≥ 100× for normal DNA
RNA-Seq: TruSeq RNA Exome Seq with ≥ 40M Reads for FFPE samples or PolyA mRNA-Seq with ≥ 20M Reads for fresh tissue samples
NovoNeoantigen 2.0 Bioinformatics Analysis Workflow
Predicts all types of HLA-I and six types of HLA-II (including DQA1, DQB1, DPA1, DPB1, DRB1 and DRB5) with WES data from the DNA of normal tissue samples.
Identifies somatic mutations (SNV, InDel and Fusion) and their gene expression level with WES and mRNA-Seq data. It also generates other important results including TMB and SNV Phasing.
Predicts tumor-specific neoantigens based on the analysis above and antigen affinity analysis.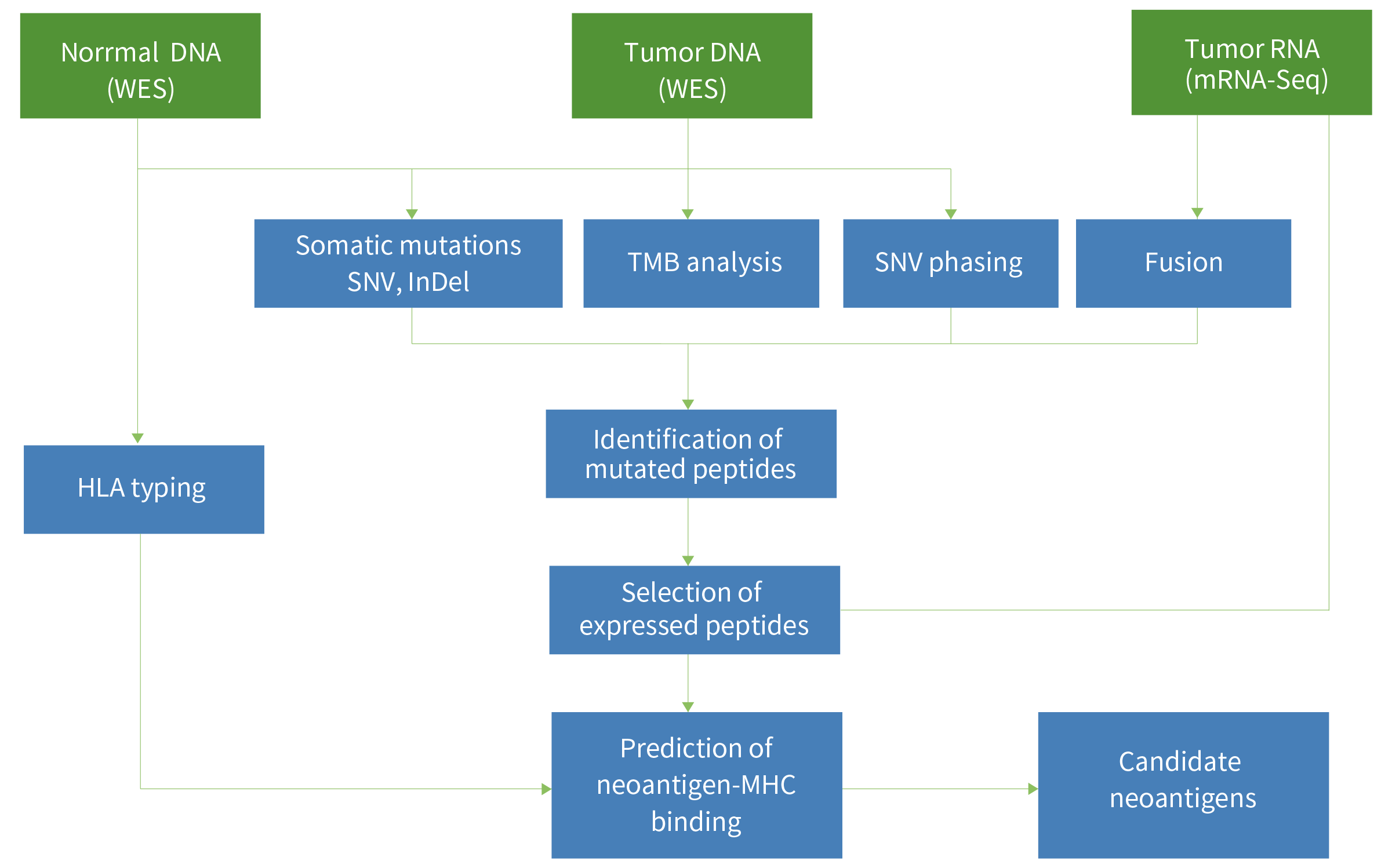 Novogene Data
HLA Typing
NovoNeoantigen 2.0 was applied to the HLA typing of 10 samples involving 100 HLA alleles from the 1,000 Genomes database. The overall coincidence rate was 91%.
Neoantigen Prediction
To evaluate the performance of the pipeline in predicting immunogenic neoantigens, we assembled 9 known and experimentally-validated immunogenic neoantigens from the literature[1, 2, 3].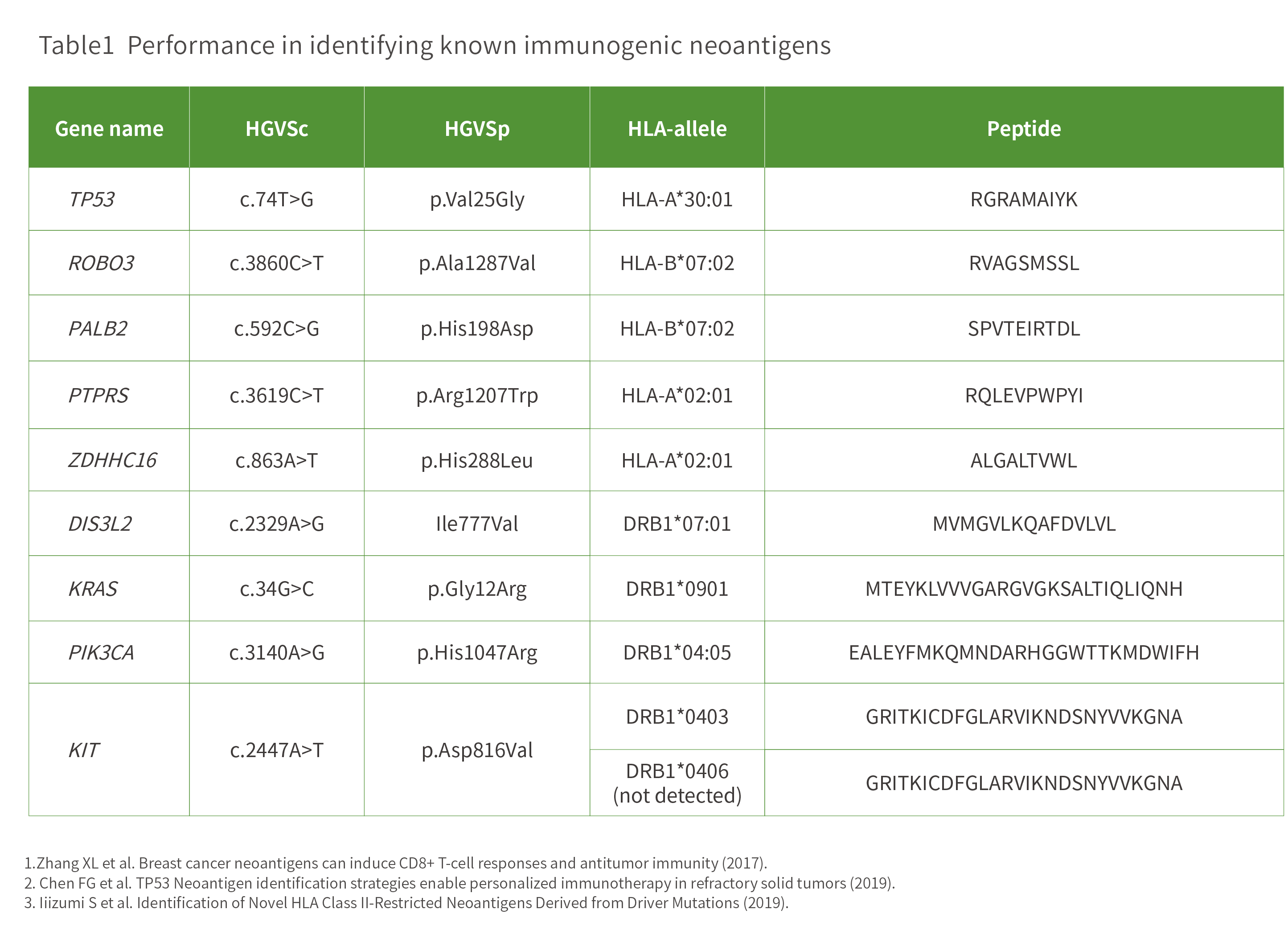 We spiked in these neoepitopes into a BAM file. The results showed that NovoNeoantigen 2.0 is able to accurately identify 8 immunogenic peptides, including 5 HLA-I binding peptides and 3 HLA-II binding peptides.
For Research Use Only. The content provided herein may relate to products that have not been approved by the regulatory authorities of where this document is circulated. The clinical application of such products should thus be limited to research only. The content of this document is subject to change without notice. © 2019 Novogene Co., Ltd. All rights reserved. All trademarks are the property of Novogene Co., Ltd. and its subsidiaries unless otherwise specified."