Novogene's UC Davis CLIA Certified Clinical Lab has passed the CAP's NGSE-A 2022 Proficiency Test
The College of American Pathologists (CAP) recently released the External Quality Assessment Report of Next-Generation Sequencing (NGS) Undiagnosed Disorders—Exome NGSE-A for the first half of 2022. UCDavis CLIA Lab, one of the clinical NGS sequencing centers of Novogene, once again passed the Proficiency Test with "Good" (CAP No. 8306872-01), indicating that the laboratory quality management system, the capacity of the experimental techniques, and the standardization and accuracy of bioinformatics analysis and clinical interpretation of Novogene Medical Laboratory have reached the advanced international level, and the assessment results are globally comparable and mutually recognized.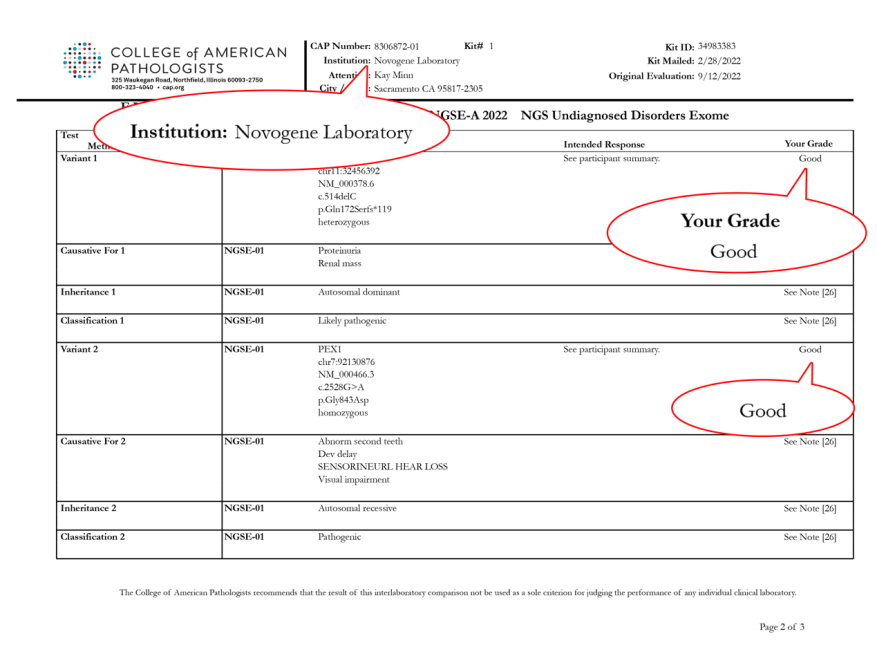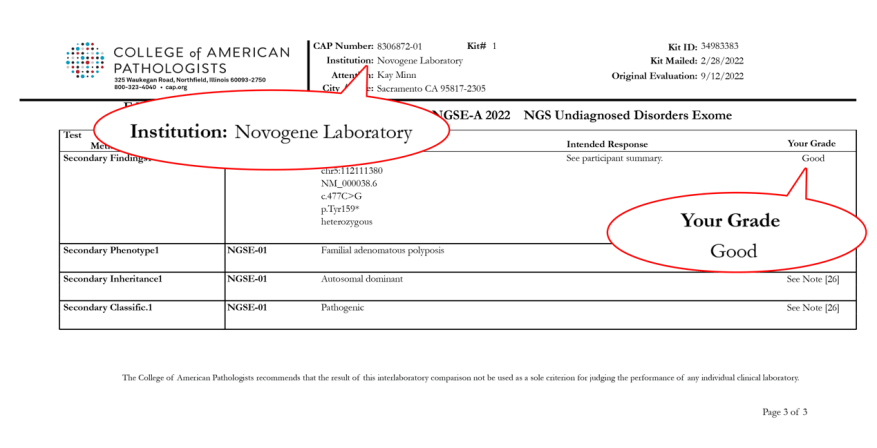 The College of American Pathologists (CAP) is the world's largest organization of board-certified pathologists and a leading provider of laboratory accreditation and proficiency testing programs. NGS Undiagnosed Disorders-Exome (NGSE)is a Proficiency Testing Program developed by CAP to evaluate the accuracy of NGS test performance, method-based gene variation, and interpretation in global genetic diagnostic laboratories.
The NGSE project is to test the ability of the laboratory to identify germline variants responsible for a provided clinical phenotype as is encountered in an undiagnosed disease scenario, which starts from one sample and covers the whole processes of experimental operation, biological information analysis, and result interpretation. The mutagenized information reported by Novogene is consistent with the standard mutation information published by CAP.
Since 2018, Novogene has continuously maintained a leading position in the capability validation of next generation sequencing technologies with its leading throughput scale, extensive experiences and expertise, stable delivery quality and efficiency. Novogene takes high technology and quality standards as its essential criteria and is committed to providing more accurate sequencing information to customers worldwide. We have always focused on pioneering the application of cutting-edge molecular biology technologies and high-performance computing in life science research and human health. As a company trusted by customers worldwide, we will continue to optimize the experience of gene technology products and services and become your loyal partner on the road of genomics development.