Novogene's Cambridge Sequencing Centre awarded 'Good Clinical Laboratory Practice' (GCLP) accreditation
Novogene's Cambridge Sequencing Centre has been awarded 'Good Clinical Laboratory Practice' (GCLP) accreditation. This international accreditation for the UK laboratory comes after the launch of clinical services from the UK lab following the ISO/IEC 17025 certification awarded in March 2021. This accreditation is a recognition of the laboratory's management standards and technical capabilities, and demonstrates that Novogene is constantly developing its quality services for its customers.
The Good Clinical Laboratory Practice Guidelines were drafted and published in 2003 by a working party of the Clinical Committee of the British Association of Research Quality Assurance (BARQA) to provide a set of standards to guide good practice. This guidance makes provisions in terms of personnel training, facilities, equipment, materials and reagents, standard operating procedures and reporting results for a quality system in analysis of clinical trial samples, ensuring GCP compliance of processes and results.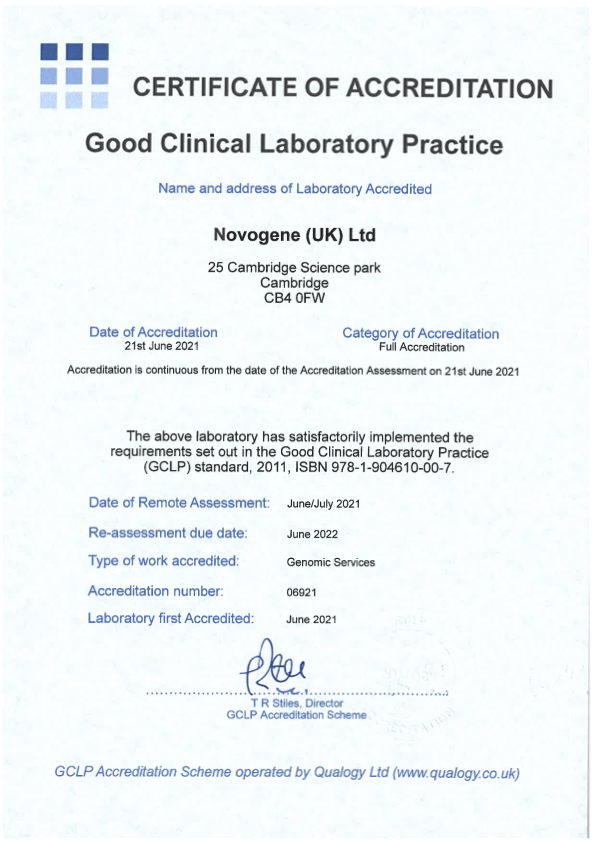 With the GCLP accreditation, Novogene demonstrates that its understanding of operational and management protocols in clinical testing has met international standards. Such stringent management standards provide an added guarantee of the accuracy and repeatability of final test results. These standards also lay a strong foundation for the laboratory to take part in future clinical projects of higher quality. In addition to the UK laboratory, Novogene's laboratories in Tianjin (China) and the United States have also achieved several accreditations, including the CAP and CLIA certifications.
The awarding of this latest accreditation to the UK lab is part of a wider trend that is testament to Novogene's leading experimental capabilities and quality management systems. Novogene will continue to develop and optimize its operational processes, standardize and integrate laboratory procedures to provide the quality services that are helping to establish Novogene as the global leader in genomic services and solutions.