Novogene Lab receives CAP accreditation in Next Generation Sequencing
Sacramento, CA, July 26, 2021 – Novogene's Sacramento and Tianjin laboratories have recently been awarded with accreditation from the College of American Pathologists (CAP), in recognition of its exemplary ratings from a recent Next Generation Sequencing (NGS) proficiency test (PT).
CAP released the findings of the second NGS-Germline (NGS-B 2020) Proficiency Testing study in 2020, with Novogene's laboratories in Sacramento, CA and Tianjin receiving a perfect score of 100 in both "Correct Variant Assessment" and "Specificity," passing the test with a "Good" overall rating.
The CAP's Laboratory Accreditation Program has promoted laboratory quality for more than 50 years. Its programs encourage a culture of continuous development through an engaging, dynamic, and collaborative approach, making it a global pioneer in implementing established performance criteria to improve service quality.
The CAP NGS proficiency test is a PT project that evaluates the capacity of global genetic diagnostic laboratories to identify genetic variation and annotation using NGS techniques. SNV, Indel, duplication, deletion, and other types of proficiency testing are among the project samples. The complete process of experimental operation, biological information processing, and result interpretation is covered by the NGS project assessment process.
Passing the CAP proficiency test demonstrates that Novogene's genetic testing skills have been certified to an international standard, as well as its accurate data analysis, clinical interpretation capabilities, and experimental technology levels. Novogene will continue to maintain strict quality control standards in the future, improve professional service levels, improve the global standardized laboratory management system and service process, and provide high-standard and high-quality genetic testing services for scientists all over the world, establishing itself as a trusted partner for scientists.
Novogene is a major provider of genomic services and solutions, with cutting-edge NGS and bioinformatics expertise and the world's largest sequencing capacity. The company provides unrivaled data quality to help customers achieve their research objectives. It is headquartered in Beijing with branches in Hong Kong China, US, UK, Singapore, Netherlands, Japan and Thailand. Novogene also has global genomic sequencing labs in the US (University of California at Davis campus), China, Singapore, and the UK (Cambridge).
For more information on Novogene, visit novogene.com/us-en.
CAP Accreditation information can be found at https://www.cap.org.
CAP Accreditation of Tianjin Novogene Med LAB NGS Clinical Lab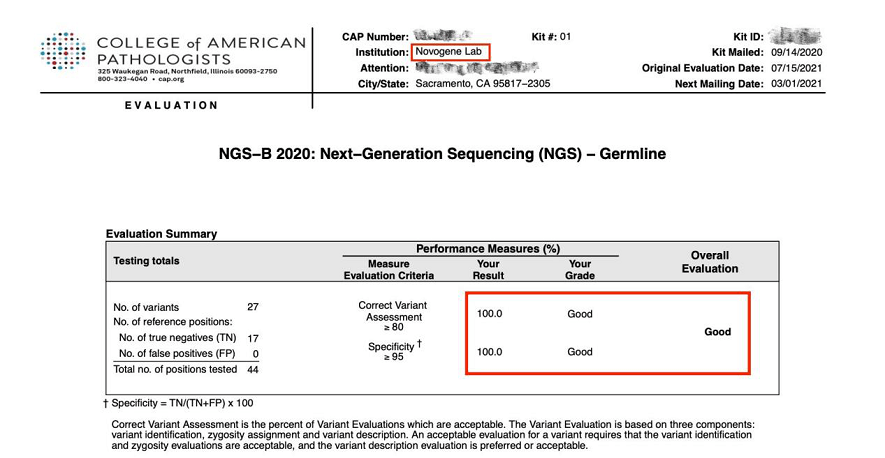 CAP Accreditation of Novogene Lab in Sacramento, California