Novogene America Joins IDT Align Preferred Sequencing Partner Program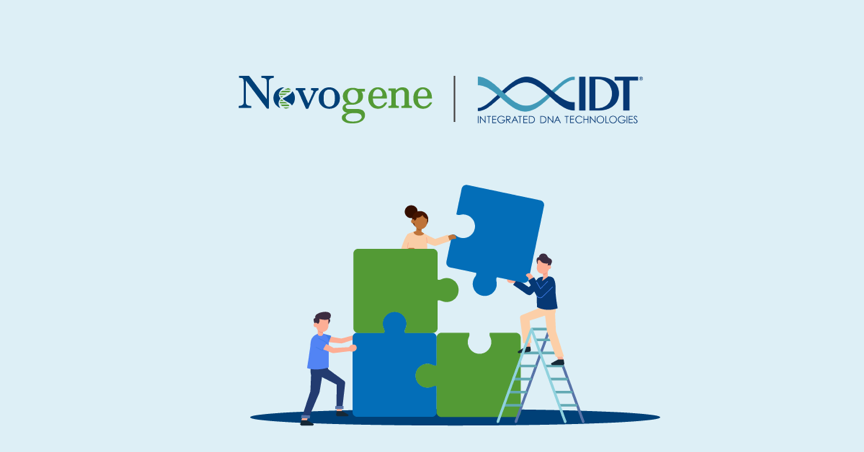 Sacramento, California. Sep 2020
The combination of Novogene's leading bioinformatics and analysis services with IDT's high quality and flexible products offers researchers an invaluable resource for their genomics projects.
IDT is widely recognized as the industry leader in DNA writing, and the Company is also delivering innovative and high-performing NGS products to enable research and discoveries. The NGS solutions from IDT feature high reproducibility, customization, and scalability that provide customers confidence in their results.
The IDT Align Preferred Sequencing Partner Program was established to broaden access to cutting-edge services and solutions that address customer needs and help genomics researchers achieve their project goals. IDT is teaming with quality partners to make NGS tools and solutions more accessible, especially for those researchers who need to find a sequencing provider tailored to their research. Sequencing options from partners in the Align Program include whole-genome sequencing, whole-exome sequencing, targeted sequencing, custom panels, single-cell sequencing, discovery and preclinical, translational and clinical, and quality control.
"We are excited to partner with IDT as an Align Preferred Sequencing Provider, as it marks a significant advancement of our mission to see Genomics Improving Life. Many of our clients have worked closely with IDT for many years and this new collaboration will provide many more with access to customized and innovative NGS services that leverage the vast experience and expertise both Novogene and IDT have to accomplish their research goals.," said Douglas Zhang, PhD, president of Novogene America.
"IDT is very pleased to welcome Novogene to our Align Preferred Sequencing Provider Program," said IDT President Trey Martin. "Their broad range of services and incredible capacity is an ideal fit for our Program. We will work closely together using IDT's industry-leading NGS products to empower greater discoveries at even higher efficiencies."
Founded in 2011, Novogene is headquartered in Beijing, China, with branches in Hong Kong, Singapore, Japan, United Kingdom, the Netherlands, and the United States. In addition, we have genomics sequencing labs at the University of California at Davis (US) and the University of Cambridge (UK), as well as in China and Singapore. Novogene's sequencing capacity is among the largest in the world, helping customers who don't have direct access to sequencing instruments to scale up projects at any volume. The expertise, global positioning, and customer focus helps us to be an industry leader in turnaround time.
Follow Novogene on LinkedIn (Novogene Global) for real-time updates and insights.
——————————-
About Novogene
Novogene is a leading provider of genomic services and solutions with cutting edge NGS and bioinformatics expertise, and more advanced sequencing capacity in the world. Novogene utilizes scientific excellence, a commitment to customer service, and unsurpassed data quality to help our clients realize their research goals. The company has become a world leader in NGS services, Novogene delivers unsurpassed data quality to support our customers' research goals. We are a world-leader in NGS services, with thousands of employees and multiple locations across the globe. Novogene has strong scientific expertise and experience with 32 NGS-related patents, as well as over 580 research papers with total impact factor at more than 4090, including publications in first tiers journals such as Cell, Nature and Science. For more information, please visit novogene.com/us-en.
——————————-
About IDT
Integrated DNA Technologies, Inc. (IDT) develops, manufactures, and markets nucleic acid products for the life sciences industry in the areas of academic and commercial research, agriculture, medical diagnostics, and pharmaceutical development. IDT has developed proprietary technologies for genomics applications such as next-generation sequencing, CRISPR genome editing, synthetic biology, digital PCR, and RNA interference. Through its GMP services, IDT manufactures products used by scientists in researching many forms of cancer and most inherited and infectious diseases. IDT is widely recognized as the industry leader in custom nucleic acid manufacture, serving over 130,000 life sciences researchers. IDT was founded in 1987 and has its manufacturing headquarters in Coralville, Iowa, USA, with additional manufacturing sites in San Diego, California, USA; Research Triangle Park, North Carolina, USA; Leuven, Belgium; and Singapore. For more information, please visit www.idtdna.com.