Novogene Announces Scaling of Sequencing Services on Oxford Nanopore PromethION
As researchers from the broad scientific community in China are able to resume their research, Novogene, the global genome sequencing service provider, has announced that it will be scaling up its provision of sequencing services using Oxford Nanopore's high throughput device, PromethION.
Oxford Nanopore and Novogene will collaborate to expand the types of application available using nanopore sequencing, to take advantage of nanopore's rich data and ability to sequence short to ultra-long fragments of DNA/RNA. Having performed initial validation and testing on the PromethION in 2019, Novogene will start expanding services on a fleet of three PromethIONs, with a view to scaling up in the future. Novogene will offer applications including de novo genome assembly, bulk and single cell/nucleus full-length transcriptome sequencing, human genome resequencing and metagenomics.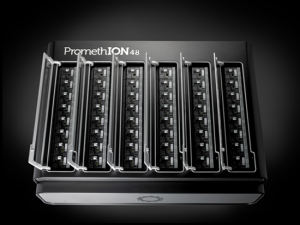 Gordon Sanghera, CEO of Oxford Nanopore said, "We are pleased to support Novogene as a global powerhouse in genomics sequencing service. We are particularly excited to support the flourishing of new applications that take advantage of good value, high yields of longer reads."
Ruiqiang Li, CEO of Novogene said, "We're delighted to participate in the construction of the nanopore sequencing application ecosystem. We will keep providing advanced and tailored long-read genomic solutions to our customers based on this collaboration."
Novogene is a leading provider of genomic services and solutions with cutting edge NGS and bioinformatics expertise, and the most advanced sequencing capacity in the world. Novogene utilizes scientific excellence, a commitment to customer service and unsurpassed data quality to help our clients realize their research goals. Novogene delivers unsurpassed data quality to support our customers' research goals. We are a world-leader in NGS services, with thousands of employees and multiple locations across the globe. Novogene has strong scientific expertise and experience with 32 NGS-related patents, as well as over 580 research papers with total impact factor at more than 4090, including publications in first tiers journals such as Cell, Nature and Science.
Oxford Nanopore's PromethION 48 device offers the only technology capable of sequencing long (or even ultra-long 1Mb +) fragments of DNA. The modular design of the PromethION allows for multiple experiments to be conducted at once, allowing for both scale and flexibility of use. One PromethION device can deliver more than 7Tb of sequence data in a single run of 48-flow cells.