Novogene achieves the 10x Genomics Certified Service Provider qualification in both single-cell and spatial transcriptome sequencing for 3 consecutive years
Recently, Novogene has been certified by 10x Genomics in both single-cell gene expression and spatial gene expression solution for its efficient, professional, and high-quality end-to-end service process. This is the third consecutive year that Novogene has obtained both certifications and is a concrete demonstration of Novogene's commitment to providing a full process of better qualified, more accurate, and accessible single-cell sequencing services for global customers, from sample preparation to library creation to data processing.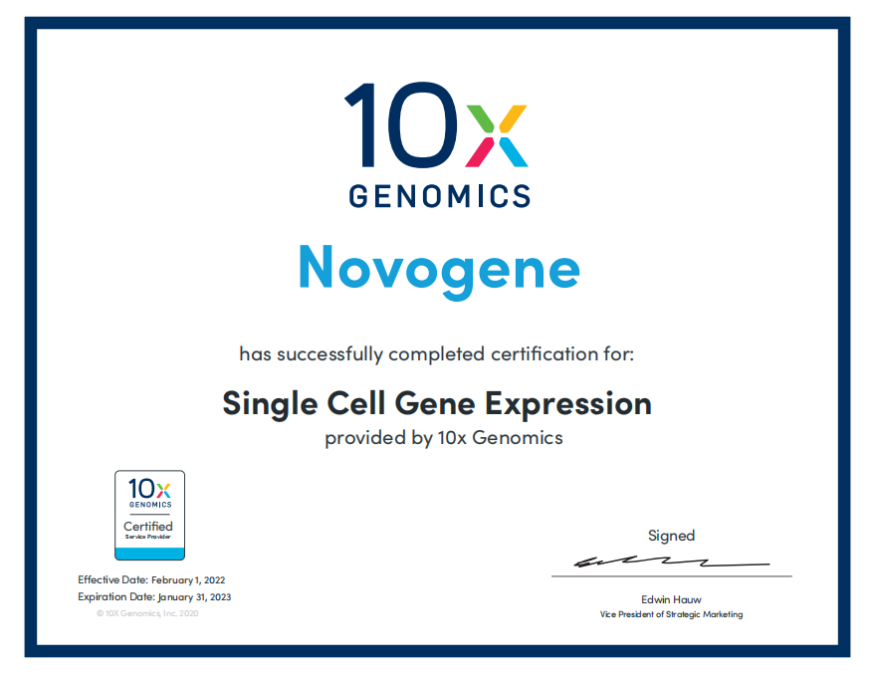 10x Genomics CSP Certified Service Provider Certificate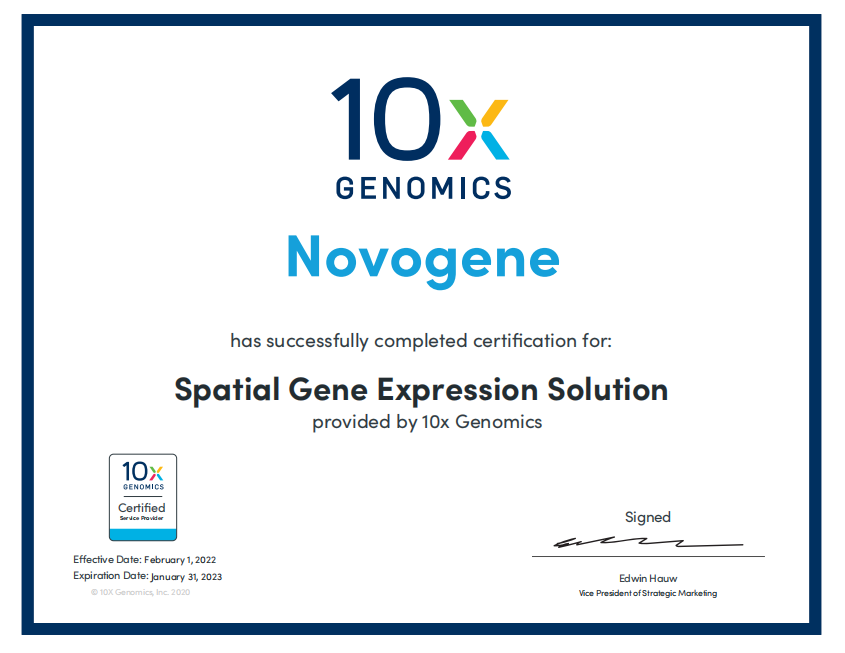 10x Genomics CSP Certified Service Provider Certificate
Wenkai Jiang, Deputy General Manager of Novogene NGS Research Center, said, "Currently, Novogene has established a complete single-cell and spatial omics sequencing service system and adhered to the strict implementation of experimental operation specifications and the best practice to ensure the accuracy and reproducibility of the final sequencing results. Meanwhile, through continuous technological innovations, Novogene has obtained 16 software and patents in single-cell sequencing, making us a further expert in the field of single-cell applications to better support sequencing services for research and clinical studies. In addition, by leveraging on Novogene's extensive experience in intelligent manufacturing, we are not only continuously optimizing our processes to improve quality and shorten cycle times but also enabling us to extend our single-cell sequencing technology into production more quickly and consistently to different markets around the world. Since 2019, Novogene has established several high-standard, professional single-cell laboratories in China, Singapore, Japan, and the United States (ready to launch), and plans to expand more new local labs to better support our global sequencing customers."
Since 2014, Novogene has accumulated a wealth of experience in single-cell sequencing projects and successfully completed 16,000+ samples using the 10x Genomics platform, including various human and mouse tissue types from both normal and disease models, as well as thousands of tissue types from more than 100 species including various animal husbandry mammals, poultry, aquatic animals, plants, reptiles, and amphibians. Novogene's single-cell business has supported more than 100 papers published by scientists worldwide with 1,400+ impact factors.
After having been around for 11 years, Novogene has advanced and comprehensive next-generation sequencing, third-generation sequencing, and multi-omics platforms to meet the diverse and individual needs of global customers. As the world's leading provider of gene sequencing products and services, Novogene continues to consolidate its capabilities as it strives to be the "trusted partner" of scientists worldwide.