Novogene Achieves Global Recognition as a Frontrunner in Genomics with the Addition of the PacBio Certification
Recently, PacBio officially announced that Novogene had been listed as " PacBio Certified Service Provider," which indicates that Novogene has the ability to provide global customers with higher quality, more innovative, more accurate, and more affordable third-generation sequencing services.
The PacBio Certified Service Provider Program is a worldwide network of authentic service organizations that use next-generation sequencing innovation and technology. Certified providers are subject to a regulated certification process to provide them with the most current training on PacBio sample capabilities and data analysis processes. The certification will offer Novogene a decisive advantage, helping it instil a higher level of confidence and trust that its customers will receive top-notch genetic analysis and genomic services utilizing PacBio tech.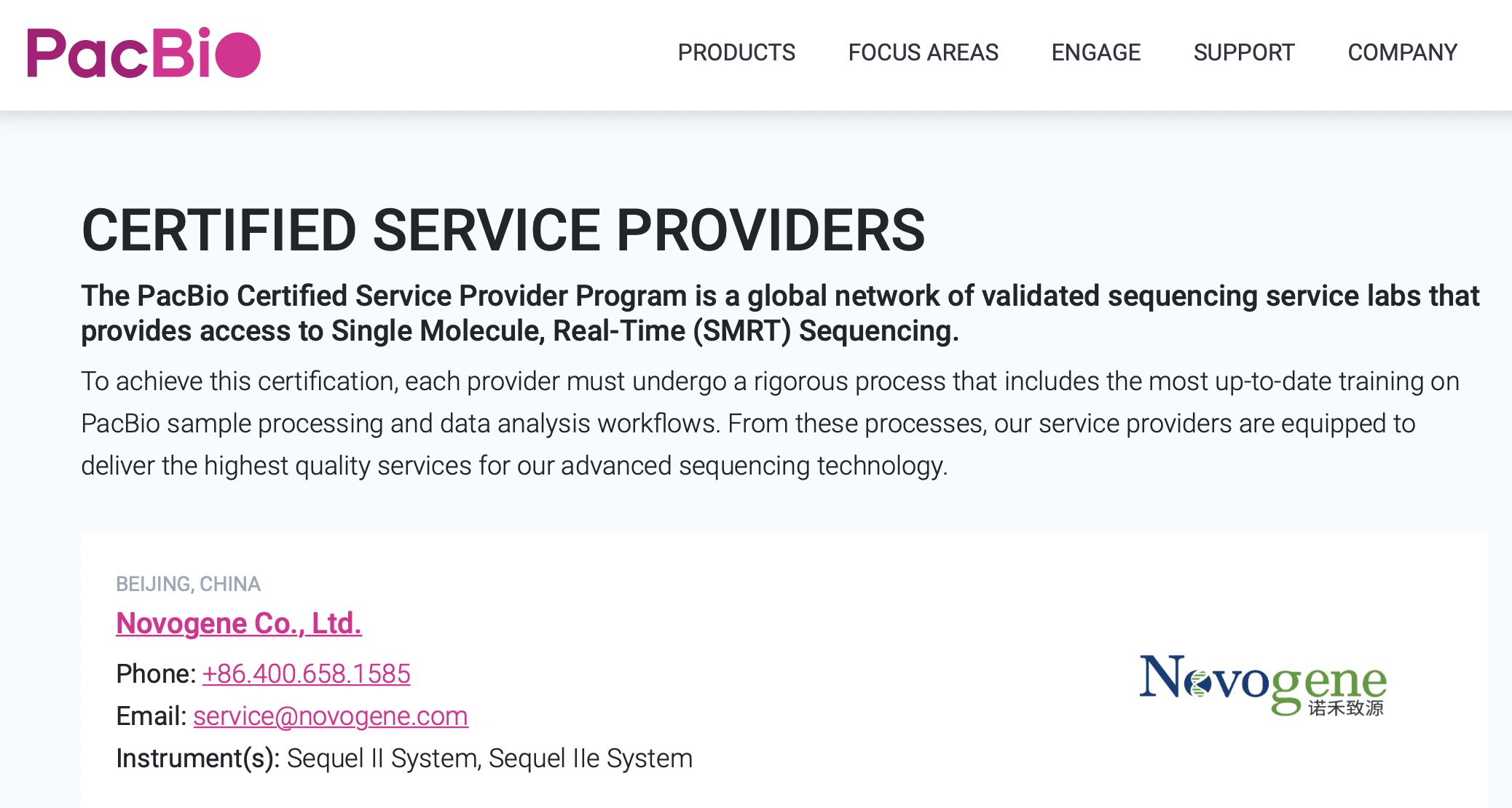 Shen Shichao, our general manager of business delivery of Novogene, said: "PacBio Sequel IIe is one of the most powerful platforms for single-molecule real-time (SMRT) sequencing, and the certification of PacBio once again proves Novogene's excellent sequencing service capabilities. We have established a complete third-generation sequencing service system and adhered to the strict implementation of experimental operation specifications to ensure the accuracy and reproducibility of the final sequencing results, to provide innovative and high-quality scientific research and clinical research sequencing services on a global scale."
Since the launch of the third-generation sequencing service in 2017, Novogene has completed sequencing of more than 1,300 species through the PacBio platform, accumulating a lot of sequencing and analysis experience; In the field of complex samples, we continue to overcome experimental difficulties and innovate methods for nucleic acid preparation and library optimization for different species and have applied for a patent.
According to statistics, Novogene and scientists worldwide have published several research results in high-level international journals such as Science, Nature Genetics, Nature Plants, and Nature Communications using the PacBio platform. The cumulative impact factor of the project is 600+. At the same time, more than ten copyrights of data analysis software have been obtained.
As the world's leading provider of gene sequencing products and services, Novogene has advanced and comprehensive second-generation sequencing, third-generation sequencing, and multi-omics platforms to meet the diverse needs of global customers and be a "reliable partner."
Check all certifications of Novogene's global labs here