Automated Sample Storage System integrated seamlessly with the intelligent delivery system (Falcon)
The Further Step for Novogene's Intelligent System
As Novogene's intelligent delivery platform – Falcon – launched from March, 2020, a new era of intelligentization on gene sequencing has been invented and extensive attention has been received from the whole industry. However, with the concept setup of "New Infrastructure" on the biotechnology and healthcare industries, genomic technology has been considered as the fundamental for the intelligent production of genetic big data.
To comprehend the process of intelligentization in depth, Novogene started from the very origin of intelligent genomic sequencing and worked in sample storage and selection process. Hence, the first "automated sample library" was built for high-throughput sequencing in China, which allowed Novogene to achieve the whole process of fully intelligent automation with sample storage and retrieval. In addition, the automated sample storage system can be integrated seamlessly to the intelligent delivery platform Falcon, making the digital and intelligent production process more accurate and efficient with no manual errors. The automated sample storage system enables precise sample capture and input to automatically update the inventory and assign a storage location and ensure smaller sample collections but need the benefits of automation like easier, faster and more reliable access to precious samples.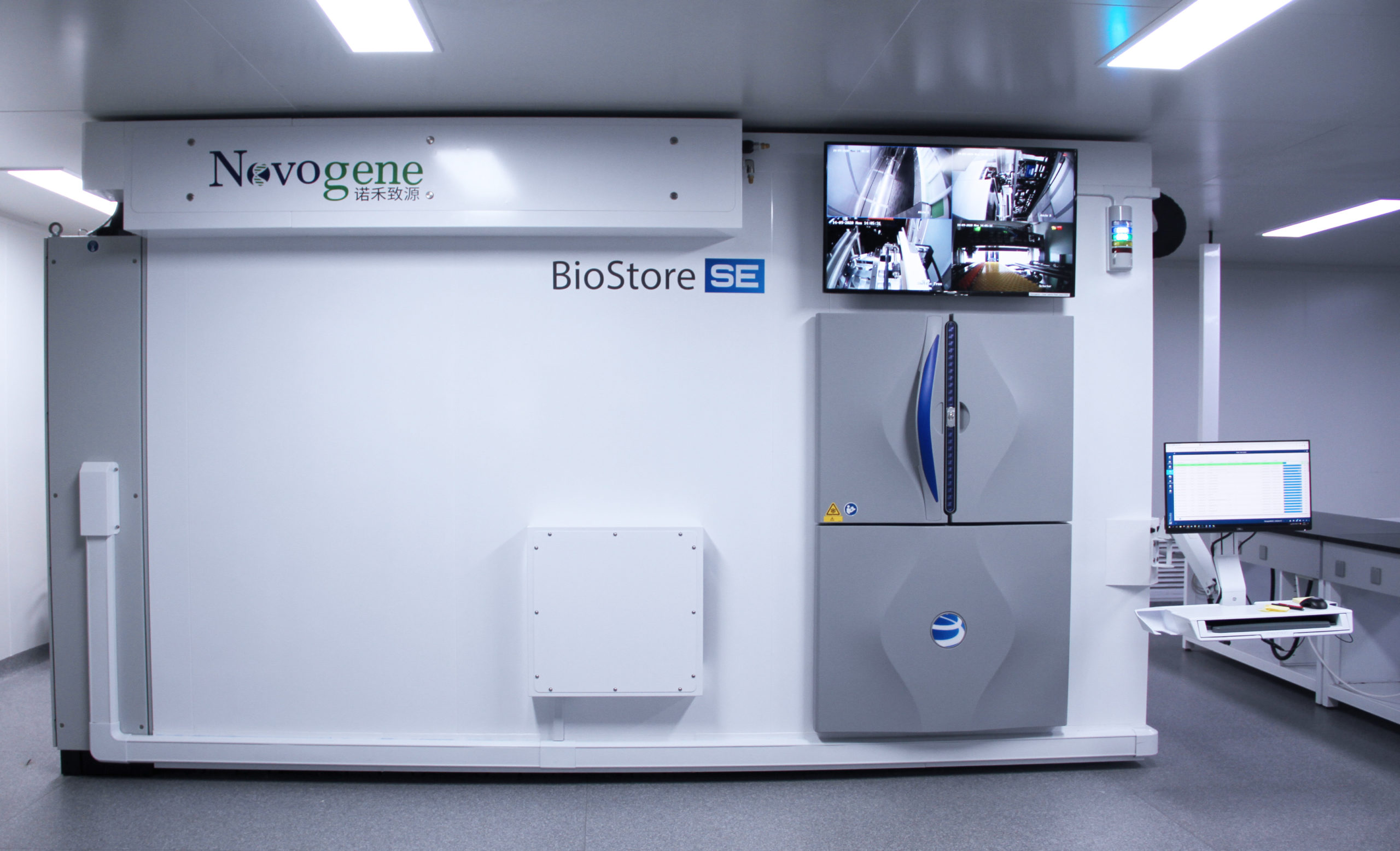 Hereby, we will explain in more detail the characteristics of the system and its main benefits and outcomes.
Large-scale Sample Storage: Greater Space Efficiency
The automated sample storage system uses digital configuration enabling the orbital robot to operate intelligently 24 hours per day, which guarantees the rapid selection of 1 tube every second. Up to 15,000+ tube samples can be selected every day. Compared with traditional manual processes, the efficiency rate is increased by about 7 times.
The high-density storage makes the system store up to 255,528 tubes of samples. Such volume can be equivalent to the stock of 10 refrigerators at -80°C. This design ensures the storage and management of a large number of samples with a wide range of species.
Temperature flexibility (-20°C/-80°C Storage Zone) meets different temperature requirements for storing different sample types.
Precious Sample Protection: Safer Storage and Manual Error Free
Through the unique identification of the QR code, the automatic sample selection completely eliminates human errors, based on its total mechanization of all process operations
Advanced refrigeration technology guarantees a balanced temperature in the sample storage area. Robust refrigeration design ensures precious sample protection from even power failure or disasters
The -80℃ tube selection module maintains low-temperature environment for whole process and ensures that other samples will not be affected by rewarming.
With simple intuitive design, one-key operations can manage the storage and retrieval of samples easily. Integrated with the LIMS system, remote monitoring provides the whole process safely and automatedly.
In conclusion, Novogene's Automated Sample Storage System is integrated seamlessly to the intelligent delivery platform, which manages the organic combination of main modules of sequencing: from sample storage, selection, extraction and testing to library construction and pooling. At the same time, the whole intelligent production system is also integrated to the Novogene automated bioinformatics analysis platform and to the Novo Cloud delivery system, which achieve full automation and intelligent management
Novogene has teamed up with academic scientists and experts around the world to promote the digitalization and intelligent development in genomic sequencing industry, to achieve a landmark breakthrough!