Small RNAs (sRNAs) are short RNA molecules, usually non-coding, involved with gene silencing and the post-transcriptional regulation of gene expression. sRNA Sequencing (sRNA-seq) is a method that enables the in-depth investigation of these RNAs, in special microRNAs (miRNAs, 18-40nt in length).
Novogene sRNA-seq service is an effective approach to selectively target any species of sRNAs with unprecedented sensitivity and high resolution, all in a single analysis. Coupled with a robust in-house bioinformatics pipeline, Novogene sRNA-seq service has been assisting researchers to describe the differential expression of miRNAs, structural alterations, and to discover novel sRNAs.
Applications
sRNA-seq has been supporting many compelling research avenues, including:
Profiling known and novel transcripts and expression quantifications of small RNA
Predicting targeting genes of miRNA candidates
Identifying tissue, stage, or cell type-specific biomarkers for cancer/disease diagnostics and classification
Discovering regulatory networks and understanding the mechanisms of tissue or organism development based on transcript profiles
Benefits
The Novogene sRNA-seq is a well-established service that relies on extensive experience, with numerous samples successfully sequenced. It allows access to expression profiles and transcript characterizations for multiple small RNA species, with a tried-and-tested workflow for both input sample of total RNA and exosomal RNA.
Novogene offers comprehensive analyses using top-notch software and a mature in-house pipeline, meeting all your bioinformatics needs. Researchers can obtain the regulation network, the deep regulation mechanism of gene expression, and more, with Novogene's high quality services.
Specifications: RNA Sample Requirements
Library Type
Sample Type
Amount
RNA Integrity Number (Agilent 2100)
Purity (NanoDrop)
Small RNA Library
Total RNA
≥ 2 μg
Animal ≥ 7.5, Plant ≥ 7, with smooth baseline
A260/280 = 1.8-2.2
A260/230 ≥ 1.8
Exosomal Small RNA Library
Exosomal RNA
≥ 10 ng
Peak between 25-200 nt, FU> 10, no peak > 2000 nt
Note: Sample amounts are listed for reference only. Download the Service Specifications or Sample Requirements to learn more. For detailed information, please contact us with your customized inquiry.
Specifications: Sequencing and Analysis
Sequencing Platform
Illumina NovaSeq 6000
Read Length
Single-end 50 bp
Recommended Sequencing Depth
≥ 10 million read pair per sample
Standard Analysis (miRNA)

Data Quality Control
Summary of Length Distribution
Common & Specific Sequence Summary
Identification & Characterization of miRNAs
Classification & Annotation of miRNA
Quantification & Differential Expression Analysis
Functional Enrichment Analysis
Note: Sequencing depths and analysis contents displayed are for reference only. Download the Service Specifications to learn more. For detailed information, please contact us.
Project Workflow
The project workflow starts with sample quality control (Sample QC) to ensure that your samples meet the criteria of the sRNA-Seq technique. Then, the appropriate library is prepared according to your target organism and application, and subsequently tested for its quality (Library QC). Next, a single-end 50 bp sequencing strategy is used to sequence the samples and the resulting data is also checked for its quality (Data QC). Finally, bioinformatic analyses are performed and publication-ready results are provided.

Publications
Novogene's comprehensive sRNA-seq empowers researchers to investigate the differential expression and regulatory network of miRNAs, structural alterations, and to discover novel small RNAs. Here is a list of publications below that have used Novogene's sRNA-seq services.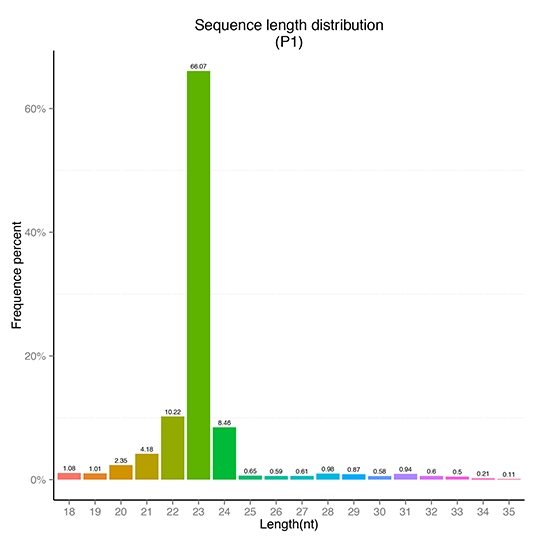 ---
sRNA Classification-Repeat Sequence