16S/18S/ITS Amplicon Metagenomic Sequencing is an ultra-deep DNA sequencing method that focuses on sequencing specific target regions (amplicons). Short (<500 bp) hypervariable regions of conserved genes or intergenic regions are amplified by PCR and analyzed by next generation sequencing (NGS) technology, to identify and differentiate multiple microbial species from complicated samples. Amplicon metagenomic sequencing is designated to sequence the target genes of 16S ribosomal RNA (rRNA), or 18S rRNA and Internal Transcribed Spacer (ITS) rRNA by universal primers, to describe and compare the phylogeny and taxonomy of bacteria (and archaea) and fungi (such as yeasts, molds and etc.), respectively.
Novogene amplicon metagenomic sequencing services provide to efficiently screen for variants and target organisms, and describe and compare the diversity of multiple complex environments. The approach is frequently used in population and community microbial ecology studies, phylogenetic reconstruction of target microbial groups, identification of individual species in pure cultures, and detection of organisms of interest (pathogens or beneficial), among many others.
How does of 16S/18S/ITS Amplicon Metagenomic Sequencing work?
Amplicon metagenomic sequencing is an effective way to investigate all microorganisms present in diverse samples, including:
Targeting and identifying the organisms of interest
Annotating and classifying plentiful microorganisms in one assay, to obtain a complete composition of microbial communities
Distinction of bacteria and archaea (16S), or fungi and other eukaryotes (ITS/18S)
Detection of pathogens, microorganism contamination, soil bacterial benefits and etc.
Analyzing samples from physiological fluids or tissues to diagnose disease and cancers
Advantages
Amplicon metagenomic sequencing is considerably simpler, faster and more efficient, compared with the whole microbial genome sequencing by separating each single species in the samples. Based on its highly targeted characteristics and multiplexing, information on thousands of amplicons is obtained by specific amplification in a single run without host contamination. High coverage is achieved, and resequencing is possible even in GC-rich regions.
Novogene has rich experience with amplicon projects and recently developed new pipelines to sequence amplicons using both short reads and long reads (full-length) technology for 16S and 18S amplicons. At Novogene, Amplicon metagenomic sequencing services can help retain a great level of flexibility in the experimental design to get analysis and clustering by both "OTU" (operational taxonomic units) and ASV (DADA2) pipelines. Customized analysis can also be available on the online Qiime 2 platform at will.
Primers applied to Amplicon Metagenomic Sequencing
Types
Amplified Region
Fragment Length
Primers
Sequences (5'- 3')
Bacterial 16S
V4
300 bp
515F
GTGCCAGCMGCCGCGGTAA
806R
GGACTACHVGGGTWTCTAAT
V3-V4
470 bp
341F
CCTAYGGGRBGCASCAG
806R
GGACTACNNGGGTATCTAAT
V4-V5
450 bp
515F
GTGCCAGCMGCCGCGGTAA
907R
CCGTCAATTCCTTTGAGTTT
V5-V7 (for endophytic)
435 bp
799F
AACMGGATTAGATACCCKG
1193R
ACGTCATCCCCACCTTCC
Archaeal 16S
V4-V5
400-500 bp
Arch519F
CAGCCGCCGCGGTAA
Arch915R
GTGCTCCCCCGCCAATTCCT
Types
Amplified Region
Fragment Length
Primers
Sequences (5'- 3')
Fungal 18S
V4
350 bp
528F
GCGGTAATTCCAGCTCCAA
706R
AATCCRAGAATTTCACCTCT
Fungal ITS
ITS1
200-400 bp
ITS5-1737F
GGAAGTAAAAGTCGTAACAAGG
ITS2-2043R
GCTGCGTTCTTCATCGATGC
ITS2
380 bp
ITS3-2024F
GCATCGATGAAGAACGCAGC
ITS4-2409R
TCCTCCGCTTATTGATATGC
ITS1-1F (for endophytic)
200-400 bp
ITS1-1F-F
CTTGGTCATTTAGAGGAAGTAA
ITS1-1F-R
GCTGCGTTCTTCATCGATGC
Specifications: DNA Sample Requirements
| | | | | |
| --- | --- | --- | --- | --- |
| Sample Type | Amount | Volume | Concentration | Purity |
| Total DNA | ≥ 200 ng | ≥ 20 μL | ≥ 10 ng/μL | A260/280 = 1.8-2.0 |
Note: Sample amounts displayed are for reference only. Download the Service Specifications or Sample Requirements to learn more. For detailed information, please contact us.
Specifications: Sequencing and Analysis
Sequencing Platform
Illumina NovaSeq 6000
Read Length
Paired-end 250 bp
Data Output
30K/50K/100K raw tags
Standard Data Analysis

OTUs cluster and phylogenetic relationship construction

Species annotation

Alpha & Beta diversity analysis
Ternary plot
NMDS & LEfSe analysis
Metastats analysis
Species T-test analysis
MRPP, ANOSIM, PERMANOVA, AMOVA analysis
Comparative analysis of alpha and beta diversity indices
Note: Analysis contents displayed are for reference only. Download the Service Specifications to learn more. For detailed information, please contact us with your customized requests.
Project Workflow
The workflow for a new project begins with sample preparation and subsequent quality control. Once the quality of the DNA sample has been validated, PCR amplification will be performed on target regions (amplicons). The amplicons are then purified for library preparation, after which, library quality control commences. Sequencing by synthesis (SBS) technology is used by the Illumina NovaSeq 6000 platform to sequence the library and, once sequencing is complete and data quality control is performed, bioinformatics analysis is conducted to obtain high-quality results and create publication-ready figures.

Publications with Amplicon Metagenomic Sequencing
Amplicon Metagenomic Sequencing is a powerful tool for researchers aiming at the identification and differentiation of microbial species, either using OTUs or ASVs. With 16S/18S/ITS rRNA sequencing results, the microbial diversity of the environment through the Alpha (α) and Beta (β) diversity analysis can be characterized, to identify, describe, and track microorganisms of interest. Here is a list of featured publications that have used Novogene Amplicon Metagenomic Sequencing services.
Results of OTU Cluster & Annotation Analysis

---
Species Abundance Heatmap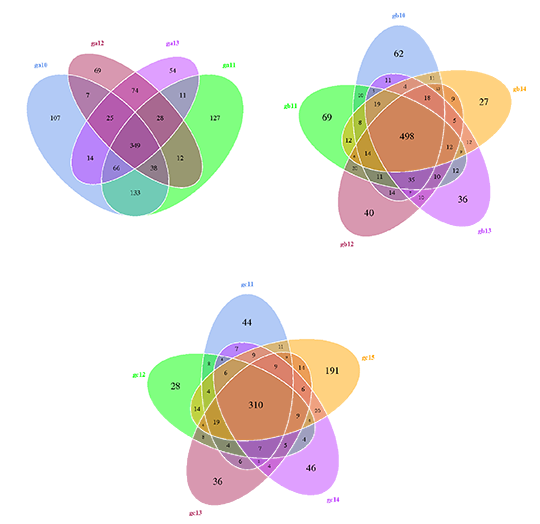 ---
Taxonomy Tree for A Single Sample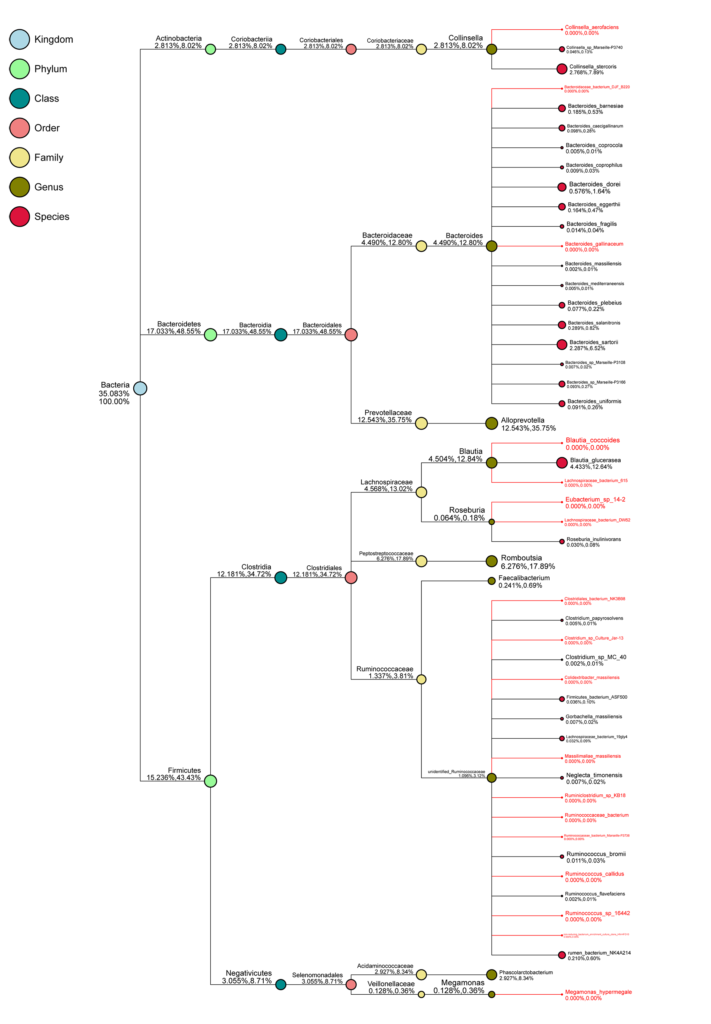 ---
Rarefaction & Rank Abundance Curves by Individual Sample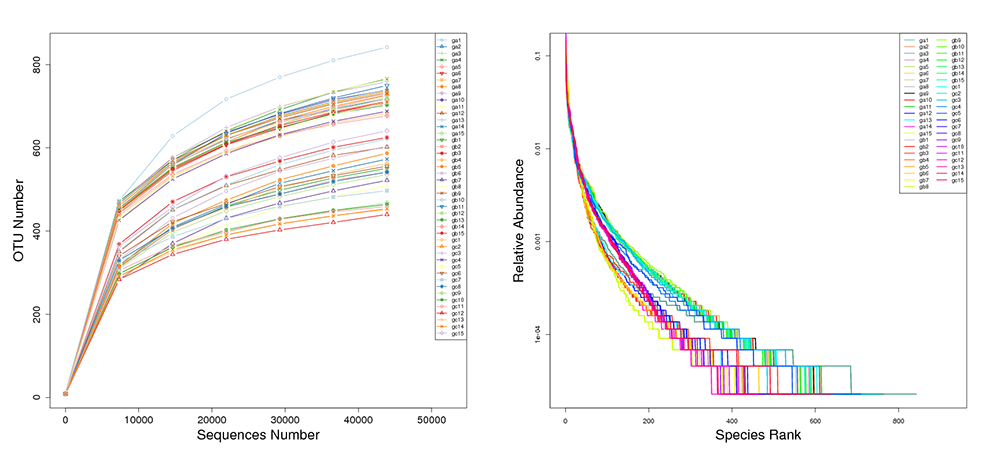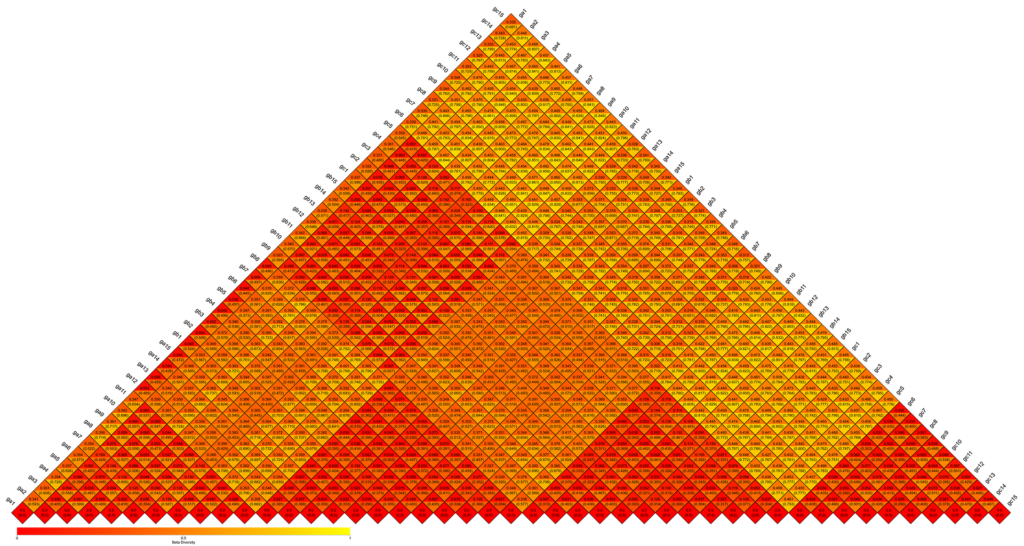 ---
Principal Component Analysis (PCA) based in OTUs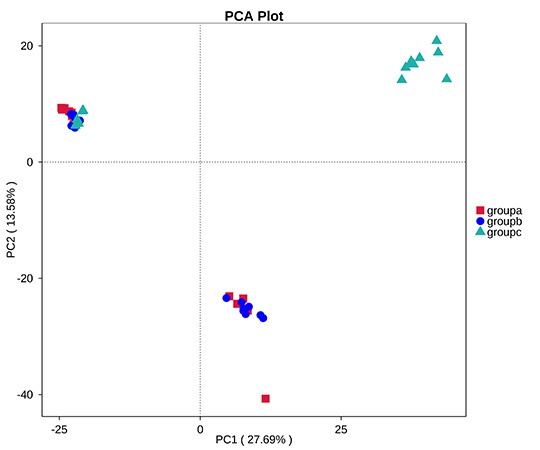 ---
UPGMA Cluster Tree based on Weighted Unifrac Distance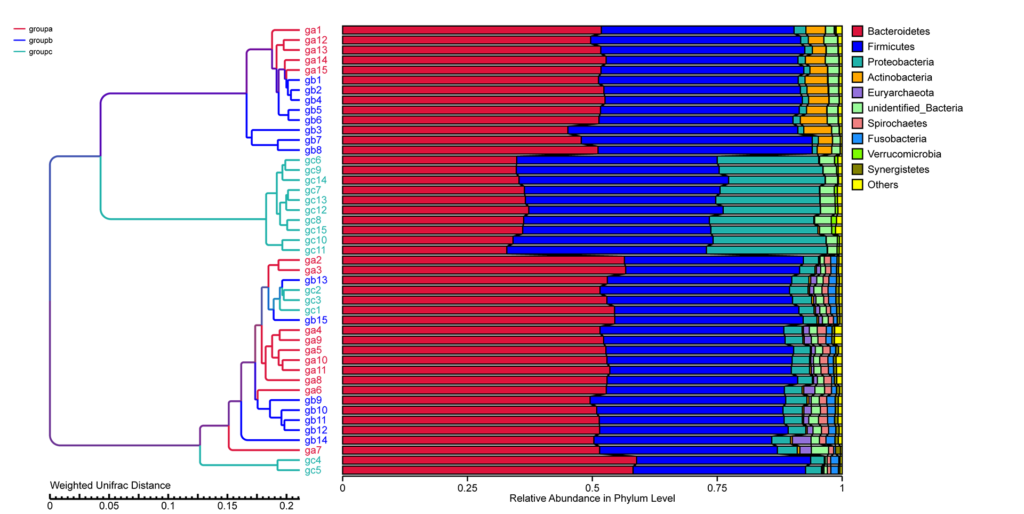 ---
Cladogram of LEfSe Analysis
---
Relative Abundance on Phylum